Avalon  Miner  – 7.3 RTH\s High quality from Miner Factory With PSU
Product Description
Avalon Miner  is the ROQ Solid Miner. The Avalon Miner 741 is made with Reliable Open Quality.
Containing 72 x A3212 16 nm chips, AvalonMiner 731 is the latest Canaan AvalonMiner. Its maximum hash rate is 6 TH/s.
By connecting our AvalonMiner Controller (sold separately) to a single AUC3 (AvalonMiner USB Convertor 3), you may connect five AvalonMiners. For maximum usage, you may connect the AvalonMiner Controller to 4 AUC3 devices which may each connect to 5 AvalonMiners for a total simultaneous management of twenty AvalonMiner 741 to reach 120 TH/s.
If you manage a large installation of AvalonMiners, we can help you deploy our openly developed AvalonMiner Management System which enables you to efficiently manage thousands of AvalonMiner machines.
This product contains: 1 X AvalonMiner 721, 1 X AvalonMiner USB Converter 3 (AUC3), 1 X AUC3 I2C 5PIN Cable.
Specifications
Hashrate: 7.3TH/s
Power Consumption: ≈ 850-1000 Watts (with assumption of 90% power conversion ratio).
PSU output pins: 8 x 6PIN PCIe power connectors.
Controller: AvalonMiner Controller
AUC3: Each AUC may connect up to 5 devices.
Dimensions: 340 mm x 136 mm x 150 mm
Gross Dimensions: 400 mm x 210 mm x 220 mm
Operating Temperature: -5 °C to 40°C
Net weight: 4.3 kg
Gross weight: 4.7 kg
Attention
Avalon Miner 721 includes a 90-day warranty, starting from the date goods are received. Buybitmainonline.com guarantees a 90 days warranty from the first date you receive the goods. We promise to replace defective or faulty parts with new parts, but mining earnings will not be compensated. Buyers pay inbound shipping and we will pay the return shipping. Please note that we are not responsible for any loss caused by customs delays, losses or charges.
 
Avalon Miner 741 – 7.3 RTH/s High quality from Miner BITCOIN  WIRE TRANSFER Factory

  BITCOIN |WESTERN UNION|T/T|CASH  ALL ACCPETED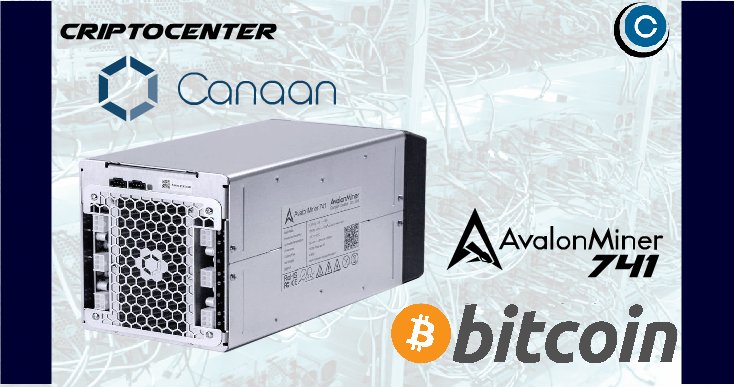 | | | | | | | | | | |
| --- | --- | --- | --- | --- | --- | --- | --- | --- | --- |
| Products Status | stock | ASIN | B0732HK63V | Material | Metal | Interface Type | USB 2.0 | Color | Silver |
| Encryption | NO  | Brand Name | Canaan | Model Number | 741 7.3TH\s | Voltage | 11.6 ~ 13.0v |  Style |  ASIC |
| Product Name | Avalon Miner 741 | Hash Rate | 7.3 TH/s ±5% | Power | 1150watts ±12% | Weight | 4.3kg | Place of Origin |  China |
| Operating  Temp | -5℃ ~ 40℃ | Chipset | 88pcs A3212 | Size | 32 x 13.6 x 15cm | Cooling | 1 Rear fan 6000RPM | | |
Avalon741 Specifications:

1. Hash Rate: 7.3TH/s ±5%
2. Power Consumption: 1150W + 7% (at the wall, with APW3
93% efficiency, 25C ambient temp)
3. Power Efficiency: 0.16J/GH + 7%(at the wall, with APW3
93% efficiency, 25°C ambient temp)
4. Rated Voltage: 11.60 ~13.00V
5. Chip quantity per unit: 88x A3212
6. Dimensions: 320mm(L)*136mm(W)*150mm(H)
7. Cooling: 1 Rear fan 12038 PWN: 6000rpm
8. Operating Temperature: -5 °C to 40 °C
9. Network Connection: Ethernet
10. Noise: 50-60db
Warranty:

1. No refund and return after the payment.
2. A 90-day warranty for miners.
The following conditions will make the warranty invalid:
3. Disassembled machine, unauthorized changes, or replacement of components.
4. Damage caused by lightning strike, voltage surge, faulty power supply, etc.
5. Burnt circuit boards or chips.
6. Damage by water, damp or corrosion.
Note:
1. Power consumption figures will vary with your PSU's efficiency, the ambient operating temperature and the accuracy of the power meter.
2. PSU: A power supply unit is included, and you will need to provide an ofical PSU. There are 6 x 6PIN power connectors. Do not connect more than one PSU to the same hashing board!
3. It is brand new miner, 100% stable, plug and play and works in good condition
Guarantee:
100% Guaranteed After-Sales support 100% Guaranteed Fast shipping
100% Guaranteed Genuine/Authentic Product
100% Guaranteed Factory warranty (International)
BUYER VERIFICATION (REQUIRED UPON REQUEST):
1. A picture of yourself holding your driver's license as a form of verification.
2. Name on driver's license must match your credit card  name and address.
Shipping is within our shopping policy to all addresses other than APO/PO boxes in the lower 48 states. Our stock all ships from our US-based warehouses. Shipped via USPS or UPS (depending on location and package weight) Unless stated otherwise, all orders will ship within 24 hours of your payment being processed. Check our feedback to see the great reviews of FAST shipping we offer. 
PAY SECURED BY BITCOIN — T/T – WIRE TRANSFER(MONEY GRAM / WESTERN UNION)

We Do not except return for our products.
We stand behind our honesty.
Return shipping is the responsibility of buyer unless the return is a result of our mistake .
We will pay for shipping replacement back to you if an exchange is requested.
If you have any questions please contact us through "Ask seller a question" link.
We will respond within 1 business day or less.
DELIVERY TIMES
Domestic lower 5 days free shipping is expedited. We have many different shipping locations depending on the product you buy and the shipping location that you choose. We try to ship most items within 3-4 days of payment Monday-Friday. Most orders are in transit for two days but some may take longer. If you have a specific time frame please contact us before you make the purchase.
Bitcoin Miner Avalon 741 7.3TH Asic Miner 7300GH
Hashrate: 6 TH/s
Power Consumption: ≈ 850-1000 Watts (with assumption of 90% power conversion ratio).
PSU output pins: 8 x 6PIN PCIe power connectors.
Controller: AvalonMiner Controller
AUC3: Each AUC may connect up to 5 devices.
Dimensions: 340 mm x 136 mm x 150 mm
Gross Dimensions: 400 mm x 210 mm x 220 mm
Operating Temperature: -5 °C to 40°C
Net weight: 4.3 kg
Gross weight: 4.7 kg